#80 – SAP & Qualtrics, eCommerce, Customer Success and more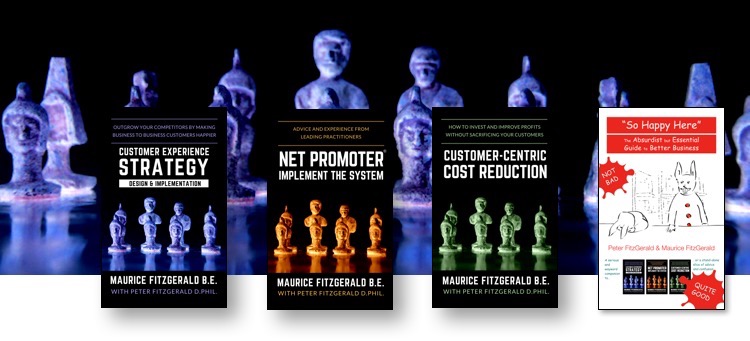 SAP acquires Qualtrics, eCommerce that complements retail stores. Welcome to the 80th edition of my customer strategy newsletter. The five topics this week are:
SAP acquires Qualtrics – Some thoughts about the value of the deal

Web stores need to complement physical locations – My latest experience

Latest blog posts

Notable items from other sites – Customer Success, strange customer stories

Looking forward
SAP acquires Qualtrics – Some thoughts about the value of the deal
At the time I retired from HP we were using Qualtrics as our provider for double-blind benchmark research. We did not use their customer experience software, choosing mainly to develop our own and use feedback processes built into our CRM systems. So, while their software has a good reputation, I have no personal experience with it. I knew SAP well when I worked on the global alliance team at Compaq and have tried to follow their progress at a distance since then. Last week SAP announced they are acquiring Qualtrics. You can see details here.
To me at least, the obvious question is how Qualtrics, with expected revenue of $400 million in 2018 could possibly be worth $8 billion, even with a 40% growth rate that they expect to continue. SAP has borrowed the money to make the purchase, though their net income in 2017 was about $4.5 billion.
The most important point to bear in mind is that there is only one correct way to value an acquisition target: Discounted Cash Flow (DCF). If you think something else, like 'earnings multiples' is correct you are simply wrong. DCF uses all expected future earnings before taxes, depreciation, and amortization (EBITDA) forever to provide a value calculation. The variables that matter most are the growth rate and the interest rate (the discount rate) used. In general, the company being acquired projects much higher growth rates than the acquiring company believes to be realistic. This leads to a disagreement on the price.
The acquiring company resolves that disconnect by designing synergies into its integration strategy. The reason the majority of acquisitions fail is that the overall integration strategy is unrealistic. The lack of realism comes from underestimating the difficulties of cultural integration and overestimating the value of synergies or how easy they will be to achieve.
Culturally, German and US business cultures are about as far apart as it is possible to be. (Source: When Cultures Collide by Richard D. Lewis.) SAP has an American CEO, and that will help a little, but not much.
Synergies fall into several categories:
Growth synergies that the companies bring to each other. More growth requires more sales people and partners. The existing sales people cannot possibly just sell the other company's products. They already have full-time job, and software sales are specialized.

Cost synergies are reductions in people, buildings and payments to suppliers. If cost synergies have been built into the plan German labor laws mean they will disproportionately affect Qualtrics people as they are mainly located in places where workers are not protected.

Dis-synergies also exist, meaning customers or partners who will leave SAP or Qualtrics because they do not want to work with the other company.
Since such synergies are frequently insufficient to justify the acquisition price acquiring companies, driven by management hubris, jump into the fantasyland: the calculation of the supposed value of preventing a competitor acquiring the company. Such calculations are meaningless.
So… digging out my DCF spreadsheet from my M&A course at Kellogg… I can't get to an $8 billion valuation without aggressive growth rates and at least some cost synergies. How realistic are such growth rates? It will take 18 to 24 months to find out…
Web stores need to complement physical locations – My latest experience 
Someone (I don't remember who) recently told me that water was the most critical thing on the planet because without water you can't make coffee. This came home to me yesterday morning when our 'bean to cup' Delonghi coffee machine stopped working. The machine is (or was) about six years old and has been great. I quickly found a repair manual online, took it apart and determined that one of the two heating elements was no longer working. We once had a similar Delonghi machine fail while under warranty. They took more than a month to repair it. I decided to go shopping online. The situation required fast action.
I started by looking at some comparison tests on consumer sites and this took my choice down to a few models. I then used a price comparison site to determine a budget. Several of the major Swiss brick-and-mortar stores also have eCommerce sites and they were on the comparison lists, sometimes with prices that were close to the lowest. However, the main ones had one attractive feature that made all the difference. Their websites (Fust, InterDiscount, and Media Markt were the ones I looked at) all provided the stock status in each of their physical stores as well as proposing to sell online, usually with free shipping.
My need to have a new machine working the same day was paramount. I checked stock status at nearby stores for the models that interested me. I unboxed the new machine at home an hour later. Delicious experience. All too many companies that have physical locations run their eCommerce sites separately, essentially creating internal competition with lots of opportunities for disconnects. Intelligent companies have sites that complement their physical operations, making life much easier for people with urgent needs like mine.
Our latest blog posts
The top one on this is the first in a new series on a specific aspect of strategy creation: the process of asking new questions so you can get new answers. Older posts are still available on the blog page.
Notable customer experience items from other sites
Neil Davey: What are Customer Success Managers and why are they so important? 
Customer Success Managers started in software and have become important players in other businesses. I suppose they started in software because software businesses tend to have high margins and could afford to make the investment without being certain it would work. In HP's $4B software business we implemented them in two sub-businesses first. The huge improvement in contract renewal rates meant that we quickly decided to implement them everywhere. Their role is to make sure customers get the return they expect on their investment. Their services are provided without charge and they do not carry sales quota, at least in what I would call a 'pure model'. Neil's article for MyCustomer goes into detail and I think you will find it an interesting five-minute read here.
Strange site – Apparently the customer is not always right
Some of these are far from politically correct. I think it is simply a site where customer service agents of different types simply post stories about what they consider to be bad or unreasonable customers. Some of these are funny, some sad, some frankly difficult to understand. See what you think here.
Looking forward
I will need to go through my list of partner-related questions for the second blog in the 'Ask new questions to get new answers' series. Other than that, not much going on in the coming days. Your ideas for articles are always welcome.
Here are links to all of our books on Amazon.com. Kindle versions are available in all stores. Print versions are available from the major stores only. The thing that you can do to help us most is to write reviews of our books on Amazon.
Customer Experience Strategy – Design & Implementation
Net Promoter – Implement the System
Customer-centric Cost Reduction
"So Happy Here": The Absurdist but Essential Guide to Better Business (Color edition)
"So Happy Here": The Absurdist but Essential Guide to Better Business (Black & White edition)
Please share this newsletter with your friends and colleagues and encourage them to sign up for it here. I have put links to past newsletters on the subscription page. Finally, please feel free to change or cancel your subscription using the link below.
You can also email me, Maurice FitzGerald, at mfg@customerstrategy.net.