#103 – Warmth and competence – 100 best CX books – Freakonomics – ACSI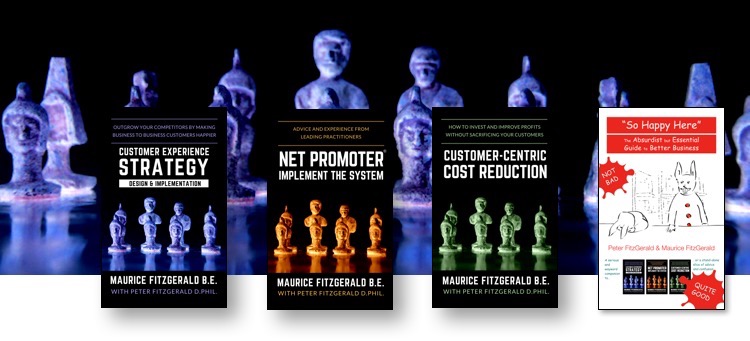 Welcome to the 103rd Customer Strategy newsletter. The five topics this week are:
More on the 'warmth and competence' model, after recent personal experiences

Our books on list of '100 best customer experience books of all time'

Latest blog posts – Deep series on NPS continues

Notable items from other sites – Freakonomics on Trader Joe's, ACSI on car satisfaction

Looking forward
More on the 'warmth and competence' model
I recently had two experiences that reminded me of the 'warmth and competence' model of customer experience, as proposed by Chris Malone and Susan T. Fiske in their excellent book The Human Brand. To simplify, our expectations of experiences delivered by humans is that they should be both warm (by smiling, for example) and competent. Here are two recent personal examples of when one of the two factors was missing:
I scraped my car's wing mirror in a parking lot. I phoned the garage where I bought the car to arrange an appointment. The call was transferred to the receptionist as nobody in the service department was available. (The people in question sit ten meters / 30 feet from each other.) The receptionist passed a message on to the service people using their internal messaging system. The service people had not phoned back 24 hours later so I drove over to arrange an appointment. Note that my wife and I have been buying cars from this garage for the last 25 years.
When I got there to ask for the appointment I was extraordinarily well received by the service people as has always been the case. However, I asked to speak to their manager to discuss the lack of a call-back. He told me that their workload was such that calling back could take up to 48 hours. He suggested I use their online service reservation form to be sure of an immediate response. I went away feeling they were 'warm' but not 'competent'.
That was about six weeks ago. Last week a message came up on the dashboard saying a regular service should be scheduled. I emailed the main service person I had been interacting with to ask for an appointment. After 24 hours without a response I remembered the online service request form. I filled it out. No response 48 hours later and still no answer to my email, so I went over there again to reserve in person. Once again I was warmly received and made the appointment. However, it is clear that a change of general manager of this family-owned business about three years ago has meant cost-cutting and staff insufficiencies that have destroyed the customer experience associated with servicing the cars. Today my wife and I decided that we will never buy another car from them again.
The second experience was simpler and I am sure you have all experienced this sort of thing. A family member lives in Neuchâtel and we sometimes eat at a simple restaurant that is the closest one to where she lives. For the second time we experienced a waitress who was competent but not warm. On our last visit her very first words to us were "Are you ready to order?" No "Hello" or any such niceties. So… I removed that restaurant from the contact list in my phone. No more reservations for them.
The bottom line: we consumers of products and services expect the people who provide them to be both warm and competent. Without both, we leave, if we have a choice. (I recognize that government services and other monopoly situations exist where we have no choice.)
Our books among '100 Best Customer Experience Books of All Time'
I discovered this by complete accident on Monday and had no idea that such a list even existed. What can I say? Book Authority publishes lists of top non-fiction books in various categories. They determine their lists using proprietary algorithms that are based on sentiment, sales volumes, recommendations and other factors. The algorithm is not public.
Our first book, Customer Experience Strategy – Design and Implementation, and our third book Customer-Centric Cost Reduction both make the top 100 list. It is possible to click to create a list by estimated sales numbers for the category and both books are also in the top 100. I noticed that Net Promoter – Implement the System has the same rating as the last few books on the list, so must have just missed the cut.
I suspect our particular thanks are due to book readers who have written Amazon reviews and / or publicly recommended them on Twitter or elsewhere. I will be interested to see how the list evolves over time. You can consult it here.
Our latest blog posts
The posts on this list are part of my extensive and deep series about the Net Promoter System. Older posts are still available on the blog page.
Notable customer experience items from other sites
Freakonomics – Should America be run by Trader Joe's?
Yes, I am a huge fan of Levitt and Dubner. Their first book was my introduction to the whole world of behavioral economics. This podcast episode is a re-broadcast of a story I found particularly insightful. Readers based in North America and followers of the American Customer Satisfaction Industry benchmarks will know that Trader Joe's has the highest customer satisfaction rating of any US-based supermarket chain. Yet it provides far less choice than other supermarkets. Why does this make sense? It is all explained in the podcast. I guarantee you will learn a lot!
Worth a listen here.
ACSI – Customer satisfaction crashes across the automobile industry
The American Customer Satisfaction Industry people just published their 2019 results for all major vendors that sell cars in the USA. Most brands had lower satisfaction than in 2018.
Have a look and their press release to see details here.
Looking forward
Book sales continue to do surprisingly well, so thank you. June was the best of the three Junes since the books first appeared. July was the best July. And August was our best August. I have to say that I don't know why this is happening. While the rather attractive NPS series could be an explanation, our strategy book is slightly outselling our NPS book. Insights welcome.
Here are links to all of our books on Amazon.com. Kindle versions are available in all stores. Print versions are available from the major stores only. And as of two weeks ago, you can find the books, or at least order them in many bookstores. If you have already read any of our books, please write reviews on Amazon.
Customer Experience Strategy – Design & Implementation
Net Promoter – Implement the System
Customer-centric Cost Reduction
"So Happy Here": The Absurdist but Essential Guide to Better Business (Color edition)
"So Happy Here": The Absurdist but Essential Guide to Better Business (Black & White edition)
Please share this newsletter with your friends and colleagues and encourage them to sign up for it here. I have put links to past newsletters on the subscription page. Finally, please feel free to change or cancel your subscription using the link below.
You can also email me, Maurice FitzGerald, at mfg@customerstrategy.net.