#108 – Fortune article on NPS, NPS benchmark reports, and a bit of humor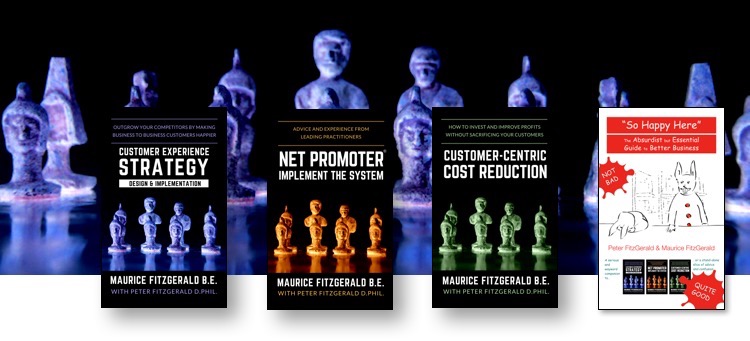 Welcome to the 108th Customer Strategy newsletter. The subjects this time are:
Happy to have been quoted multiple times in a Fortune article on NPS

Have written seven industry-specific NPS benchmark reports

Latest blog posts – CX Strategy

Notable items from other sites – Let's have a laugh!

Looking forward
Happy to have been quoted multiple times in a Fortune article on NPS
While I had no idea Geoff Colvin, 'Senior editor at large' was working on this article for Fortune, I started to receive messages congratulating me on being quoted four times. The quotes seem reasonably accurate, though I am not sure where they came from. I suppose they are from Bain Net Promoter System podcasts as they are not the precise words I have used in any of our books.
I like the article a lot. It makes many excellent points about the uses and misuses of NPS. I should probably add some more material to the Wikipeda Net Promoter page based on some of the content. I have been meaning to write an update for some time as I believe I now understand exactly how the name of the metric came into existence. If you have some sort of photographic memory you may recall that Fred Reichheld mentioned neither NPS nor the three category names in his seminal HBR article The One Number You Need To Grow.
Please have a read and let me know what you think. If, like me, you don't have a subscription to Fortune, you can find it on the Bain site here. (Geoff must have had inside information. He even spelled my name correctly.)
Have written seven industry-specific benchmark reports
In my role as editor-in-chief of content for Richard Owen's new OCX Cognition company, I gained access to the latest NICE-Satmetrix NPS benchmark data. I have just completed the seventh of seven industry-specific reports. Everything is for B2C businesses selling to American consumers. Another team member is working on the transformation of my Word documents and Excel files into a fancy eBook format. The first three reports are live on the OCX Cognition website as I write this.
What I have tried to do is to search for the main reasons an NPS leader is the leader, as well as looking at the reasons some companies have risen or declined in the rankings. My final report, completed a couple of days ago, was on online shopping. The most striking thing was the continuous decline of Amazon in the rankings since 2017, after years of dominance. It was quite tricky to propose some explanations, using both the NPS data and other information. I hope you will enjoy it when you see it.
The full data set and full reports are available via subscription from NICE-Satmetrix. I have only been able to disclose the name of a single company in each of the free, public versions. Those of you in the specific industries should not have too much difficulty guessing the other names in some cases. A person from the auto insurance industry who reviewed a draft guessed most company names correctly.
Here is the full list. The first few have live links to the actual report. If you are a new subscriber to the OCX Cognition insights you will need to fill out a form to have access. If you already have a logon you may need to log in to see the relevant pages. One user told me they were taken to a different page after logging in. If that happens to you, simply come back here and click the link a second time.
Cell phone services
Auto insurance
Banking
Online shopping
 We will probably have a benchmarks sub-menu under the Insights heading live by next week. As always, your feedback is most welcome.
Our latest blog posts
I have indeed managed to blog a little bit. The posts on this list are a subset of a long series on how to develop and implement a customer experience strategy. Older posts are still available on the blog page.
Notable customer experience items from other sites
42 Hilarious Customer Complaints And Responses That'll Make You Laugh
I don't know about you, but all this confinement and social distancing means I need a good laugh now and then. I laughed out loud at a lot of these. If you object to bad language you may want to skip this. Otherwise, enjoy them here.
Looking forward
Our books continue to sell well despite my lack of newsletters and blogs. I recently noticed a negative rating for one book on Amazon.com, written in Italian. The author's main criticism is that the font I used for the book it too big and he felt that this had artificially doubled the length of the book, compared to using a small font. I suppose that criticism is technically accurate. I would have liked to reach out to him to offer to refund what he paid for the book, but there seems to be no way to do that. If one of you newsletter subscribers happens to be that person, please let me know. That criticism has of course lowered our star rating and I would appreciate it if any of you add your own reading experience to the review list on Amazon.
Here are links to all of our books on Amazon.com. Kindle versions are available in all stores. Print versions may not be available from some Amazon sites that are dedicated to smaller countries. You can find the books, or at least order them in many bookstores. If you have already read any of our books, please write reviews on Amazon.
Customer Experience Strategy – Design & Implementation
Net Promoter – Implement the System
Customer-centric Cost Reduction
"So Happy Here": The Absurdist but Essential Guide to Better Business (Color edition)
"So Happy Here": The Absurdist but Essential Guide to Better Business (Black & White edition)
Please share this newsletter with your friends and colleagues and encourage them to sign up for it here. I have put links to past newsletters on the subscription page. Finally, please feel free to change or cancel your subscription using the link below.
You can also email me, Maurice FitzGerald, at mfg@customerstrategy.net.