#109 – Survey problems, Heidi hits the wall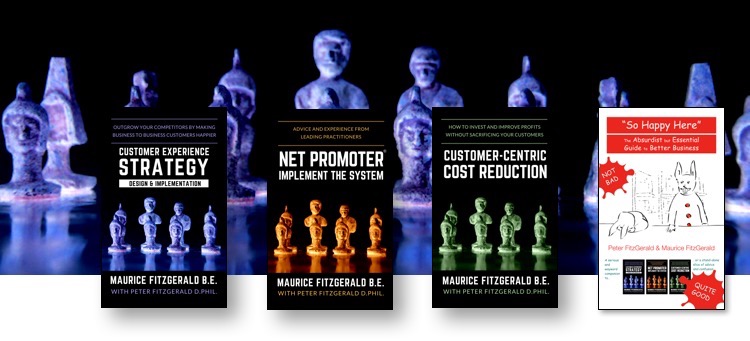 Welcome to the 109th Customer Strategy newsletter. This is a special one. You may have noticed that I have not sent a newsletter since August last year, mainly to avoid confusion with the writing I do for OCX Cognition. And this particular edition is an almost exact duplicate of the newsletter I have just started on LinkedIn. Please subscribe to it on LinkedIn here.
The five topics this week are:
The biggest problem with customer surveys

Heidi hits the wall (Yes, the Heidi from the children's book.)

OCX Cognition posts

Notable items from other sites – CustomerGauge Experience Awards, omniTouch contact center article.

Looking forward
The biggest problem with customer surveys
I designed and implemented my first customer survey in 1981. NPS and suchlike had not been invented yet. Ever since then, I have been a huge promoter of using surveys to listen to customers, and of course to then design and implement the improvements they want.
Apparently I am a really slow learner. It has taken me 40 years to understand the main defect of even perfectly implemented survey processes. The problem is simple. Response rates mean we listen to a small fraction of customers and work only on what they want. Let's suppose you have a 10% survey response rate and your Detractors most frequently complain about late deliveries. If you are like most companies that do this well, you call the upset customer and try to retain their custom by offering them a reduction voucher or a free gift of some sort. At the very least, you apologize sincerely.
I used to think that sounded great. Now I don't. The issue is that you are only taking care of the customers who have complained about late deliveries and were among the 10% who responded to the survey. What about the other 90% of your customers who did not respond and many of whom also had late deliveries? Why have you done nothing for them? Do you really want them to leave you? There is no excuse for this. You know who they all are from your operational data. Apologize and compensate everyone who has had the problem, please!
This can be hard to do manually and customer retention issues are often caused by a combination of issues rather than just one. Modern AI software such as that provided by OCX Cognition and others can identify those situations and help you to address them.
It's an important topic and I have written about the subject in more detail here.
Heidi hits the wall
Heidi is a beloved character in a children's book written by Swiss author Johanna Spyri. What is less well known is what happened later. Heidi's granddaughter apparently came down from the Alps and became a customer experience professional.
I have recently written up what happened to poor Heidi when she presented her request for people and funding to implement things customers requested in her employer's survey process. Heidi works at a major Swiss bank with its HQ in Zurich. Like many CX professionals, including me, Heidi considers herself a scientist and believes the science should speak for itself. Heidi is not going to like what happens next.
Not good. Not good at all. Heidi and I learned a hard lesson the hard way. (Any resemblance to my own professional experience is entirely coincidental. I promise. Really.) Anyway, please read all about Heidi's latest adventure here, and let me know what you think.
OCX Cognition posts
I am editor-in-chief for content at OCX Cognition, a CX SaaS software company led by Richard Owen, former CEO of Satmetrix. Here is some of our content that I find interesting. Note that I prepared the B2C benchmarks report myself.
The New Science of Customer Agility

Are you often thwarted by the way your organization operates, using structures that date back 30+ years? Emerging technologies let forward-thinking companies address the fundamental roadblocks to success, using the new science of customer agility to speed up time-to-action and cultivate meaningful cross-team collaboration. Download our report here to learn more about how AI and predictive customer analytics are transforming what's possible.

The Untapped Power of Operational Data in CX

Customer surveys in a nutshell: too little, too late. To get past the core shortfalls in traditional CX approaches, a richer data set is critical. It's also readily available, thanks to breakthroughs in data science and computing capabilities, and it delivers operationally. Watch the replay here.

NICE Satmetrix 2021 B2C benchmarks summary report

Let's talk Pandemic. It's been terrible in so many ways, but, from a business perspective, what is the NPS data telling us? We explored the extensive data in the NICE Satmetrix 2021 US Consumer NPS Benchmarks, using responses from more than 65,000 adults about 220 businesses in 23 industries. The report shows the general trends and then digs deeper into the airline industry. Get it here.
Notable customer experience items from other sites
CustomerGauge Account Experience Awards
Camilla Scholten and Adam Dorrell founded CustomerGauge back in 2007. They are a CX software company with a B2B focus, based in the Netherlands and recently top-ranked by Gartner in their VOC software report. I found their 'Account Experience Awards' announcement interesting. To be in their Leader Category, survey response rates must be above 40% and Detractor loop-closing must be at above 90% within 48 hours. The team at the DHL Supply Chain took top place this time. There's a short video about it here.
omniTouch – What Kind of Experience Does Your Contact Center Deliver?
Daniel Ord is one of the world's greatest contact center CX experts. He and his team at omniTouch have been providing workshops, training, and other services to contact center leaders for almost 20 years. I really like this article he has posted entitled What kind of experience does your contact center deliver? I find the positive and negative examples particularly entertaining. As Daniel says, it is a shame that it is so easy to come up with the negative ones.
Looking forward
I am happy to say that our books continue to sell well. Thank you, and a special thanks to those who have included one or more of the books on reading lists for classes they give.
On the OCX Cognition front, I have just received access to the NICE Satmetrix 2021 B2B benchmark data and expect to be able to summarize it and my insights at some point this month.
From a technology perspective, the results of OCX Cognition's first customer implementations of Spectrum AI software have been fascinating. I have been quite surprised by which sets of operational and other data are now proving to be the best predictors of customer retention and of NPS results.
Once again, please subscribe to the new newsletter on LinkedIn here.
Here are links to all of our books on Amazon.com. Kindle versions are available in all stores. Print versions may not be available from some Amazon sites that are dedicated to smaller countries. You can find the books, or at least order them in many bookstores. If you have already read any of our books, please write reviews on Amazon.
Customer Experience Strategy – Design & Implementation
Net Promoter – Implement the System
Customer-centric Cost Reduction
"So Happy Here": The Absurdist but Essential Guide to Better Business (Color edition)
"So Happy Here": The Absurdist but Essential Guide to Better Business (Black & White edition)
Please feel free to change or cancel your subscription using the link below. I will occasionally use it to send you some content, but will mainly publish on LinkedIn.
You can also email me, Maurice FitzGerald, at mfg@customerstrategy.net.