#83 – Most-read articles update, manipulating NPS scores, funny videos, AI bias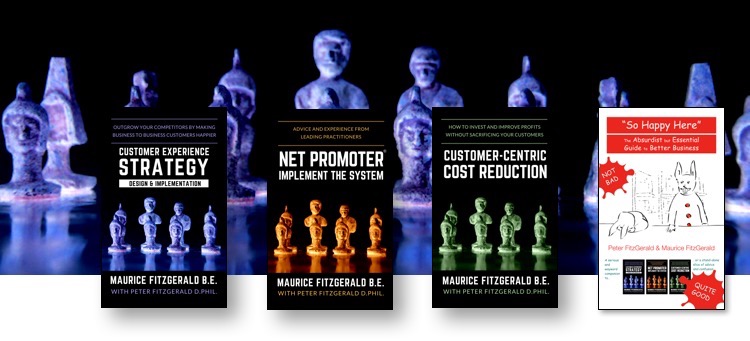 Last week's 'most-read articles' list is already way out of date, and an example of bad research from a major company. Welcome to the 83rd edition of my customer strategy newsletter. The five topics this week are:
Most-read articles update – Includes one I could not mention last week

Don't measure individuals on NPS – They will find a way to manipulate it

Latest blog posts

Notable items from other sites – Funny service videos, AI bias

Looking forward – Our books are great gifts for your teams, colleagues and friends
Most-read articles update – Includes one I could not mention last week
Over the last week I have learned quite a lot more about what people (including you) apparently like to read. On Friday I wrote an article about the badly-written PwC customer experience research report that I mentioned here last week. It has already become by far my most popular article on LinkedIn this year, doubling the prior number one's reads. The new article is here. Note that I wrote to the lead author of the report last week Wednesday suggesting he retract it until it can be improved. He did not reply, so I put my full critique on LinkedIn on Friday. It is more extensive than what I wrote here last week.
And an article I wrote two weeks ago that is not about customer experience just became my second-most-read post on LinkedIn. I criticized a different piece of research, this time on the 'morning routines' of '300 high achievers'. Their suggestion was of course that if we all copy such routines that we will be high achievers too. The defect in the research is that there was no control group. Perhaps the medium and low achievers among us have the same routines, or maybe something even more intense that we should therefore avoid. Who knows? My article is here.
However, the most-read thing I wrote last year did not appear on LinkedIn and was not on my own site either. It has had over 16,000 reads. It is on Quora, a site where people ask questions and get answers. (I suspect the majority of 'answers' are written by the people who ask the questions, or at least the first answer on the list.) Quora had a huge data breach two weeks ago, which is why I did not include my post in last week's list. In this case, the question was "Why do business people fly the expensive business class if the goal of businesses is to minimize cost?" 
Here is what I wrote:
"When the CEO and/or other senior executives feel they are justified in flying in Gulfstreams at $46 million each, it is hard for them to take a position that everyone else should fly in coach/economy. One Gulfstream costs the same as 300,000 advance purchase Chicago-Atlanta return fares. I just looked for midweek flights a month from now, on Delta, from Midway to Atlanta, so am not making this up. I realize that some companies still do have Gulfstreams and a coach-only policy. The same companies also impose travel freezes for Chicago-Atlanta (for example) while continuing to own and operate Gulfstreams."
300,000 is not a typo. Let me know what you think. This reinforces my general view that (sadly) people prefer negative messages over positive ones.
Don't measure individuals on NPS – They will find a way to manipulate it  
A family member checked in to a Hilton Garden Inn this week. This message was in her room: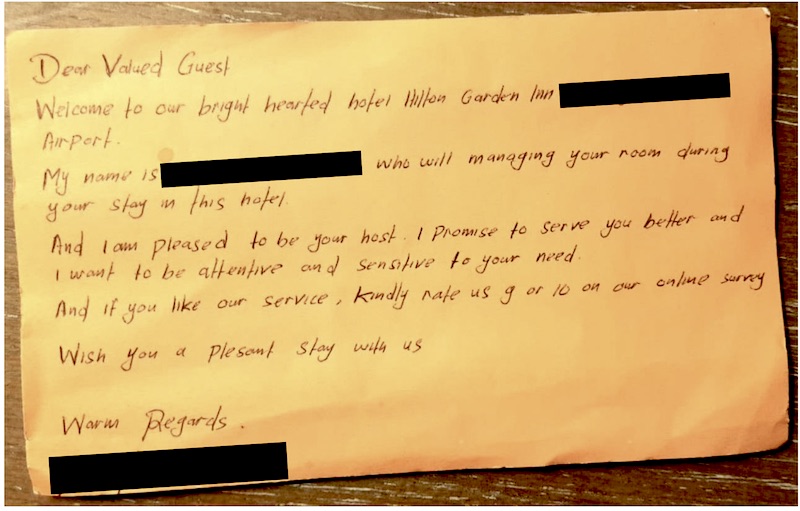 This is a typical example of what happens when you measure individuals on NPS. Compared to your reference period before you started the individual measurements, your NPS will improve, whether or not the service has actually improved. I am not picking on Hilton here as they are not worse than many others. Indeed, I have received a note from a car sales person asking me to phone first if I could not give him a 9 or a 10. His year-end bonus depended on the number of Promoter scores he received.
If you find yourself stuck with a system like this because (for example) your CEO thinks it is a great idea, do what the General Motors CX leader does and ignore the scores. Just read the answers to the 'Why?' and 'What could we do better?' questions.
Our latest blog posts
The articles listed here are part of a new series on a specific aspect of strategy creation: the process of asking new questions so you can get new answers. Older posts are still available on the blog page.
Notable customer experience items from other sites
Curated by Userlike – 16 great and really funny customer service videos
I love these and could not stop laughing. Enjoy them here.