#86 – New NPS training course, how I landed in CX, the customer experience factory, customer advisory boards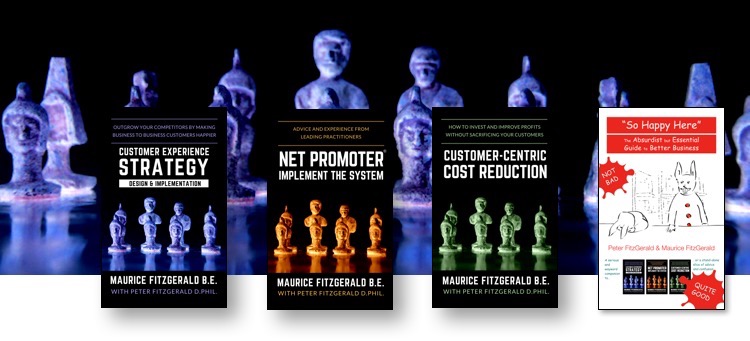 A new NPS 'All hands' training course is available. How I landed in CX. Welcome to the 86th edition of my customer strategy newsletter. The five topics this week are:
Richard Owen and team launch new 'all-employee' NPS course

How I 'landed' in Customer Experience

Latest blog posts

Notable items from other sites – Customer Advisory Boards and a CX Factory

Looking forward
Richard Owen and team launch new 'all employee' NPS course
I am a big fan of training, and an even bigger fan of what is often called 'all-hands' training that targets an entire company. When we implemented NPS across HP we designed our own training course. We did not make it mandatory, but it was by far the most-taken voluntary course. On top of the knowledge I believe the establishment of a common vocabulary is important. When people use a particular word, they should have a common idea of what it means. Company-wide training courses provide this.
Richard Owen was CEO of Satmetrix up to their merger with NICE. He and his company, OwenCX, have now launched a new NPS course. I have taken it, and you will see that you can too, without charge for individual use. Here is what they say about it:
Owen CX's NPS Training for all employees was designed from the ground up to engage, educate and align every member of the organization, no matter what their functional role is. Based on the same foundations as the certification program, it takes the core concepts and explains them in a fast paced and clear fashion, without talking down to the participant or baffling them with jargon.  For larger companies, the training can also be customized with video messages from their leadership and localized with multiple language subtitles.
The outcome you can expect from All Employee Training is every member of the organization with a common understanding of the program and how they can positively affect it.
The link to access the free trial is: here
It's all online, and I liked it. Why not give it a try? Note that I have no commercial arrangement of any kind with Richard Owen or OwenCX.
How I 'landed' in Customer Experience  
Many customer experience leaders have entertaining stories about how they wound up in their jobs. I had the job in two different companies and got it by chance both times.
At Blue Bell Apparel, the parent company of Wrangler Jeans, I was the 'Quality and Engineering' manager for France, the Benelux and Italy from 1981 to 1983. As we were innovating by bringing stonewashing to the market, I decided to do something nobody had done before. I went to the most important customers in Paris and asked them what they thought and what they would like us to improve. The results were totally different to what my boss and I expected, and surprised relevant people across the company. That is how I learned that the only way you can know what customers want is by asking them.
The second time was of course at HP. It was in about 2007, I think. My job title was Director of Strategic Initiatives and I was the Chief of Staff for the Enterprise Business in EMEA, and for the overall HP EMEA leadership team. A leadership team member to who was in charge of the customer experience team reported left the company. I approached the head of the company in EMEA and said, "Here is how quality and customer experience work is managed today. Here is how I think it should be managed. These are just suggestions for when you appoint the new leader." His reply: "OK, you are in charge." Oops. That was in addition to the work I already had at the time.
What an experience! I never looked back.
Our latest blog posts
Older posts are still available on the blog page.
Notable customer experience items from other sites
CX Journey (Anette Franz) – Questions to consider before forming a Customer Advisory Board
Nice article by Annette Franz on CABs. I am a fan of customer advisory boards and interviewed members of one of HP's boards to find out what they wanted us to improve. The top suggestion was that they wanted to be able to spend more time with each other. Several said that the main benefit they got was the opportunity to learn from their peers in other companies. The second point they made was that our balance for the speaking and listening was wrong and that we should let them do more of the speaking. As Annette puts it "Keep in mind that a customer advisory board is all about customer listening." Read her article here.
Bain – Firing up the Customer Experience Factory
I find the concept of customer 'episodes' to be a good one. If you think of them in terms of episodes in a TV series, you will be on the right track. Each episode contains a lot of scenes. The sum of our experiences with all of the episodes creates our brand image for the series as a whole. (My all-time favorites are Game of Thrones and Sherlock. My favorite for 2018 was La Casa de Papel. I suppose that is not really relevant.) If we take the example of a home insurance company, an episode might be an insurance claim after something bad has happened. The episode starts when the customer starts to work out how to contact the insurance company and ends when the claim is paid. There are lots of short transactions that happen in between, like phone calls or emails. In principle an episode is the shortest thing for which the Net Promoter System should be used. This Bain article shows how companies structure their improvement work by episode and use that to form what the Bain people call Improvement Factories. Read all about it here.
Looking forward
While not directly about customer experience, I would like to thank the four readers who sent me suggestions about how to engage with the Swiss TV people about a misleading program they finally put out this week on GMO cotton in India. The various points and tone you suggested have produced a useful engagement so far. The extent of the usefulness remains to be seen as they really need to retract a substantial part of what they said on Tuesday. The rest of the program was good, and I learned new things that add to the knowledge I gained about cotton during my seven years in the clothing industry.
December book sales were substantially better than the already-good sales in December 2017, so thank you for that holiday gift. Here are links to all of our books on Amazon.com. Kindle versions are available in all stores. Print versions are available from the major stores only. If you have already read any of our books, please write reviews on Amazon.
Customer Experience Strategy – Design & Implementation
Net Promoter – Implement the System
Customer-centric Cost Reduction
"So Happy Here": The Absurdist but Essential Guide to Better Business (Color edition)
"So Happy Here": The Absurdist but Essential Guide to Better Business (Black & White edition)
Please share this newsletter with your friends and colleagues and encourage them to sign up for it here. I have put links to past newsletters on the subscription page. Finally, please feel free to change or cancel your subscription using the link below.
You can also email me, Maurice FitzGerald, at mfg@customerstrategy.net.