#98 – Choosing CX project names. Does your clock show the same time as your customer's?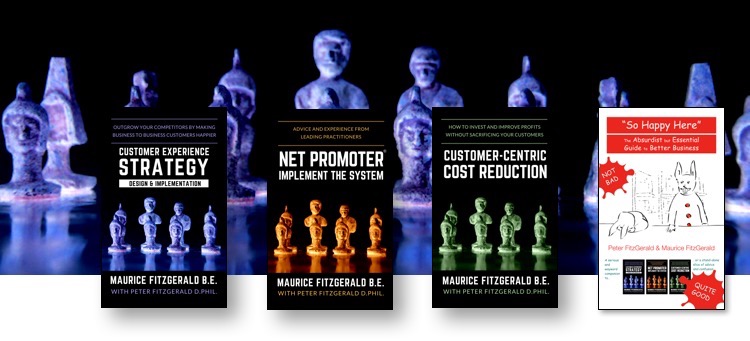 Project names matter quite a lot. Does your clock show the same time as your customer's clock? The five topics this week are:
Pick powerful names for your improvement projects

Turnaround time disconnects – When does the clock start to tick?

Latest blog posts – New series on NPS continues

Notable items from other sites – Text analytics in insurance, NPS benchmarks

Looking forward
Pick powerful names for your improvement projects
I have written about how to ensure ongoing sponsorship for your work. Recent experience makes me want to reinforce one point in particular: the importance of the name of the project or projects. In a totally rational world project names should not matter, but we humans are not 100% rational.
Think of the following situation. You have done your customer research for your eCommerce company. One of the points that has come up frequently is that you say you will reimburse customers five days after they return goods they don't want, but quite a few customers say it takes longer than that. You have spoken to the accounting people and they say the customers are wrong. You believe there is a disconnect somewhere, as quite a few departments are involved in some way. So you want to launch a project to investigate it and ensure customers stop complaining about the problem (if indeed there is one).
So you put together a project proposal. You decide you need someone from logistics, from the website team, from accounting and from quality control. Since the accounting people have already told you there is no problem to solve, well… you could have a problem. The project name can help a lot. Think about it. You could call the project 'Investigation and resolution of perception disconnect about reimbursement timing.' Boring! How about calling it 'Keeping our promises – reimbursement of customer returns'. Would anyone dare say, "I don't agree with the 'Keeping our promises' project. Let's not do it." Anyone who says that sounds like an idiot. Once you have a name like this the project is hard to refuse and will not get cut if some need to save corporate costs arises.
Turnaround time disconnects – When does the clock start to tick?
What I wrote above is about the importance of project names. The example I used is one I have experienced personally at two companies. I first came across it when I worked for the Wrangler jeans parent company (Blue Bell Apparel, at the time). Customers occasionally told us we did not respect the delivery lead times we gave them, and we had the precise issue about reimbursements mentioned above. If, for example, we made a mistake with a delivery, the store would send the goods back and we would send them the correct products. If they had already paid, we had to reimburse them.
The first time I saw this a customer said they had returned goods that they had paid for and that we had taken several days longer than promised to reimburse them. Our accounting people said everything was done correctly. I told the customer that. The customer gave me the exact dates and times involved, which I have to say was quite kind of them. It was my first experience of a timer disconnect.
These disconnects arise when your customers' timers start and stop at different times from yours. In the specific case of a customer returning product, their view of when the five days started was when the truck picked up the cartons of clothing. Their view of when the timer stopped was when the money was back in their bank account. It turned out that our view was different.
Our timer started when we had received the merchandise, opened the cartons and a quality control person had checked that the goods were undamaged. The accounting people then started their clock. They believed that we had committed a five-day TAT for the reimbursement and that they therefore had five days to process it. Our accounting people's five days did not include weekends. The accounting timer stopped when they gave the transfer order to the bank. The bank took an average of three days to process the payment, not including weekends.
As far as the customer was concerned, we promised reimbursement in five days, but took an average of 12 days to actually do so. There was lots of what I call 'white space' in our processes where the timer was simply not running.
I hope you get the point. Your operational metrics for things that involve customers have to be measured from their perspective, not yours. In our specific case, we were not able to get the process down from 12 to five calendar days, so we had to change our promise to at least 12 days. We chose two weeks as our promise. Clarity is far more important than giving customers everything they might like to have, such as a real five-day TAT in this case. I hope you agree.
Our latest blog posts
I have been getting fantastic feedback on my Elon Musk / Tesla article both via LinkedIn and directly. Thank you! Two posts on this list are part of my extensive and deep series about the Net Promoter System. Older posts are still available on the blog page.
NPS (5) – Relationship research with large B2B customers

A good relationship feedback process could be described as a non-anonymous mono-vendor benchmark survey. You usually only get detailed information about your own company. If you just have a small number of customers, you should go and talk to them all face-to-face. With larger numbers, you need to segment…

NPS (4) – Competitive benchmarks and supplier surveys

Quite a few companies sell NPS benchmark data. Some will do custom surveys to your design. Done properly, benchmark survey trends are the best predictor of revenue and market share…

Tesla, Elon Musk, and the new financial apartheid

A story about the extreme differences between those at the top and those whose lives must be sacrificed so that their leaders can receive excessive compensation packages. The blog starts like this:

José Luis Martínez* started work at as usual at Tesla's Fremont plant on a January morning earlier this year. He was in his third year as a 'maintenance technician', ensuring…
Notable customer experience items from other sites
Edward Hu / Thematic – 

Four Ways Insurers Can Leverage AI Powered Text Analytics

 
Edward has written an insightful article for the Thematic blog. The first of the four points includes a way that AI-powered analytics can identify themes that are mainly mentioned by clients when making fraudulent claims, for example. He also covers how the technology can help detect call center themes that should be added to self-help sites and two more points. It is about a three-minute read.
Read Edward's blog here.
Retently – What is a good Net Promoter Score?
At the other end of the length scale, Grigore Raileanu has written an excellent piece for Retently. It provides some surprising numbers and it is well-referenced. Personally, I found the Tesla NPS of 97 extremely surprising, though I could find no defect in the way it was obtained. (Research on a large panel of electric vehicle owners.) I did some digging and could not find details of exactly how Retently obtained its own NPS benchmark numbers, though these are broadly in line with what you will see elsewhere.
Grigore makes great points about the differences by industry and by culture or geography. The only minor thing he wrote that I disagree with is that any benchmark number better than your last one is a good number. I suppose my disagreement is a bit technical: If your entire industry has gained five points and you gain two points, your number is bad, and you will lose market share.
Worth the ten-minute read here.
Looking forward
I will continue to try to publish two blogs per week over the coming month or two.
Here are links to all of our books on Amazon.com. Kindle versions are available in all stores. Print versions are available from the major stores only. And as of two weeks ago, you can find the books, or at least order them in many bookstores. If you have already read any of our books, please write reviews on Amazon.
Customer Experience Strategy – Design & Implementation
Net Promoter – Implement the System
Customer-centric Cost Reduction
"So Happy Here": The Absurdist but Essential Guide to Better Business (Color edition)
"So Happy Here": The Absurdist but Essential Guide to Better Business (Black & White edition)
Please share this newsletter with your friends and colleagues and encourage them to sign up for it here. I have put links to past newsletters on the subscription page. Finally, please feel free to change or cancel your subscription using the link below.
You can also email me, Maurice FitzGerald, at mfg@customerstrategy.net.