#104 – My new role, NPS book refreshed, Customer Gauge eBook, KPMG Nunwood, ACSI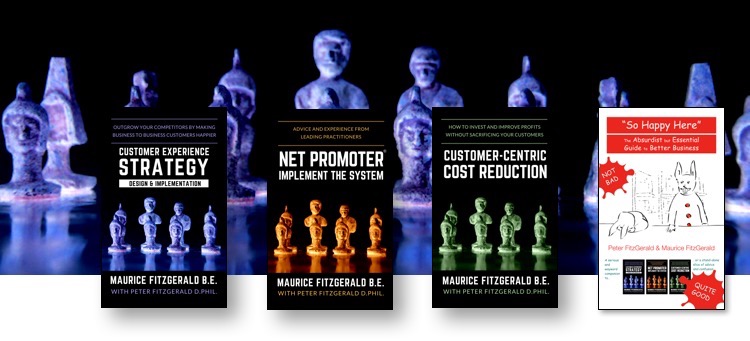 Welcome to the 104th Customer Strategy newsletter. The six topics this week are:
My new role – Editor in Chief – Owen CX

Our NPS book has been refreshed

CustomerGauge eBook on B2B CX and NPS includes a section with me

Latest blog posts – Deep series on NPS ends

Notable items from other sites – I disagree with KPMG Nunwood, ACSI Non-Durables report

Looking forward
My new role – Editor in Chief – Owen CX
As many of you will know, the Net Promoter Score and System trademarks are held by Fred Reichheld, Bain, and Satmetrix (now part of NICE). Richard Owen joined Satmetrix as CEO the same month Fred Reichheld published his HBR paper The One Number You Need To Grow. Bain and Satmetrix worked together on proving the relationship between NPS research responses and actual customer behavior, among many other things. They are co-holders of the trademark of the system, together with Fred Reichheld.
When NICE acquired Satmetrix in 2017, Richard decided not to stay with the new company. He founded a new company, Owen CX Group, focused on B2B customer experience. NICE Satmetrix decided they needed to completely refresh their Net Promoter training and subcontracted the work to Owen CX. The result is the new subscription-based Net Promoter Masterclass.
I first met Richard when I was a speaker at a major Satmetrix event in London a few years ago. (It was held inside the Chelsea Football Club stadium, which was really interesting, and must have been mentally challenging for Richard as a Liverpool native.) We sat together at dinner that evening and got along well.
One of his team called me about six weeks ago to ask me whether I would be interested in doing some freelance work for them, with a particular focus on a newsletter. We continued our discussion and I met Richard when he happened to be in Geneva for a customer visit. We followed this up with two workshops in London three weeks ago. The result is that I have now contracted with them to provide my services as 'Editor in Chief' for their content business on a part-time basis. The details should become quite obvious as our new offerings are launched over the coming months.
What this means is that I may not have the time to write as many of my own blogs and newsletters as in the past. I will give priority to the Owen CX work at least until the end of the year.
Our NPS book has been refreshed
The 37-article series on NPS based on our book chapters gave me the opportunity to refresh the content a little. I made a lot of small grammar improvements and updated some information that dated from 2017. If you have the Kindle version it will have been updated automatically. The updated paperback version has been live on Amazon for about a week now.
We are proud of our books and know that a lot of you like them too. As always, the best way you can help us to promote them is to post reviews on Amazon.
CustomerGauge – Advanced B2B strategies nobody talks about
CustomerGauge interviewed five people, including me, to create this free eBook. As their blurb says, "Looking to take your B2B customer experience program to the next level? Struggling to roll out a comprehensive CX plan your company can get behind? In our latest eBook, we asked some of the top CX experts and influencers to discuss how B2B companies they've worked with have revolutionized their customer experience." I have copied the list of experts interviewed below and you can download the whole thing free of charge here.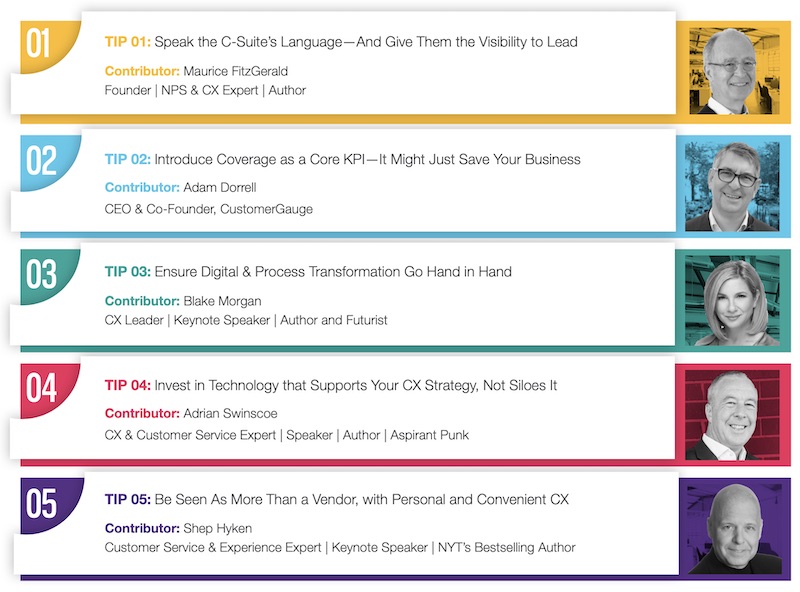 Our latest blog posts
The posts on this list are the final episodes of my extensive and deep series about the Net Promoter System. Older posts are still available on the blog page.
Notable customer experience items from other sites
KPMG Nunwood – B2B Customer Experience Report (I disagree strongly)
Some really interesting insights in this report from KPMG Nunwood. Yes, they are of course trying to sell us on their 'six pillars' methodology.
I have to say that there is a whole section of the report that is simply wrong. (Note that I am not saying "I disagree with this" or "I think there might possibly be an error." It is just wrong.) It is the part that shows data that "proves" that the US is doing 8% better than the UK across all six pillars. They go on to show numbers for decision-makers, influencers, and end users across six industries. The US supposedly leads in all six. Not so.
The issue is simple. They have not corrected for the differing ways people from different cultures answer surveys. Here is a graph from our NPS book that shows that difference as measured by something like a hundred thousand double-blind benchmark data points over a number of years for all major B2B enterprise hardware suppliers (servers, storage and networking, mainly):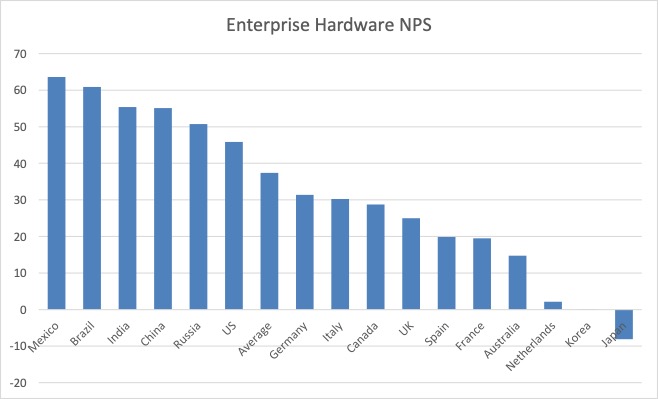 KPMG Nunwood suggest that the US has B2B customer satisfaction that is about 6% better than that in the UK for 'Business technology', which also includes software, PC clients, outsourcing and other items. I suggest that the results either show the opposite or show little or no difference.
OK, so one large section of the report is not correct. Bearing that in mind, the whole thing is indeed worth a read here.
ACSI – ACSI Nondurable Products Report 2018-2019 Download
The American Customer Satisfaction Industry people just published a great report on nondurable products covering all major industries that sell to US consumers. Guess what? Breweries ( = beer) come out on top. I suppose they asked customers at just the right time, and not the morning after 🙂 Unsurprisingly, ISPs and subscription television service providers finish joint last.
The download page is here.
Looking forward
I am happy to say that our books sales trend continues. September sales were also the best for the three Septembers the books have existed, and October is looking good too. Thank you.
As mentioned above, I am pretty deeply into my new projects with Owen CX and that will probably mean somewhat fewer blog posts and newsletters. Let's see how that goes.
Here are links to all of our books on Amazon.com. Kindle versions are available in all stores. Print versions are available from the major stores only. And as of two weeks ago, you can find the books, or at least order them in many bookstores. If you have already read any of our books, please write reviews on Amazon.
Customer Experience Strategy – Design & Implementation
Net Promoter – Implement the System
Customer-centric Cost Reduction
"So Happy Here": The Absurdist but Essential Guide to Better Business (Color edition)
"So Happy Here": The Absurdist but Essential Guide to Better Business (Black & White edition)
Please share this newsletter with your friends and colleagues and encourage them to sign up for it here. I have put links to past newsletters on the subscription page. Finally, please feel free to change or cancel your subscription using the link below.
You can also email me, Maurice FitzGerald, at mfg@customerstrategy.net.